To Quinte West Youth Centre
QWYC is a safe space led by trained staff for all youth between the ages of 10 to 18 to learn, grow, and have fun by being their true selves.
If we are unable to provide the support your youth requires, we will provide the necessary resources and connect you with a community agency that will provide your youth with the support they need.
Are you a youth looking for something to do? Or perhaps an adult looking to volunteer? The QWYC is the place for you! Make a positive impact in our community and in the lives of our youth members.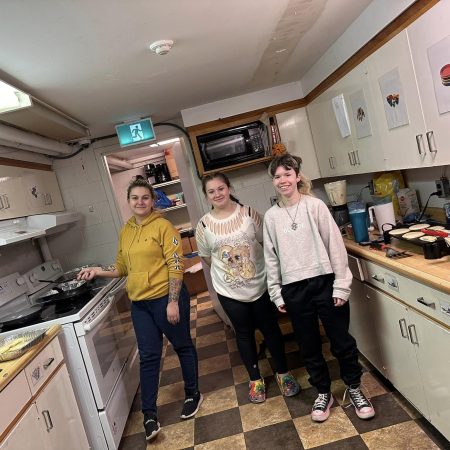 Many programs and activities are prepared each night for youth, such as cooking, art, wellness, sports, photography, video games etc.
While we are all about 'fun', we are serious about the trust instilled in our organization. We offer transparency on our processes and reporting.
"Working with the youth at the QWYC has been one of the most fulfilling experiences of my life. Fostering a safe space for them to be themselves and watching them grow into incredible young adults over the years has been a joy. They're smart, funny, empathetic, and talented beyond measure. I can't wait to see how each youth changes the world, one little piece at a time."


– Allie Dafoe, Program Coordinator
Percy currently is not allowed to come to the centre due to COVID-19. Percy disclosed how COVID-19 has impacted him negatively as it has forced him to be stuck at home, which impacts his mental health as he is not allowed to see his friends face-to-face. Percy is grateful the youth centre has transitioned to be offered virtually as this allows him to still have some contact with his friends.
The youth centre has changed my life by letting me be myself when I can't be at home because others might not agree but at the youth centre I'm accepted and feel valid which has made me a happier person.
The youth centre is the one place I can be myself and nobody will discriminate against me or call me names. It is a place where I feel comfortable and can share anything with them. It is an amazing place and I recommend you going there too!
The youth centre has impacted my life in many ways. It's been a place where I can go to hangout with friends, and enjoy the company of others. The youth centre is a place I can go when I want to get away from home or need a different environment to work on school work in. It's helped me grow in many ways and has helped me come out of my shell more.
I joined the Quinte West Youth Centre back in 2012, at first I was very shy and unsure about things. As time went on and with multiple staff there for support, it made me come out of my shell. I've had many great memories of the Youth Center, one of the best memories I have is working with Ron and Tabitha building the gardens that were once in the back of the building!
I really enjoy my time at QWYC. The people there have let me be myself for so long and I seriously appreciate things like that, and the staff there are very caring and understanding. This place gives me somewhere to be free to have my own identity and not get backlash for it. This place overall gives me somewhere to be happy.